Here I am again posting after a very loooong break. Since i'm currently a passenger on a two hour trip to a Foraco mine site, I guess I'll take the opprtunity to start playing catch up and post about what's been happening.
I still want to talk more about the shoots I showed snippets of in my last post, as well as all the work I've done since then, but for now, I'll talk a bit about "I'm Yours".
I got a call about 6 weeks ago from someone letting me know there was a Toronto production company (New Real Films) getting ready to shoot a feature in town, and they needed a designer/set dresser. I obviously had some film experience, but had never done this particular job before, and already had plenty on my plate.
I agreed to go to a meeting to find out more, and to see if I was interested. It turned out this was a production meeting with a good part of the crew talking about what needed to be done, and I was instantly on board.
The next three and a half weeks were taken over from that point on. Shopping for building supplies, furniture, transforming rooms, stores, pubs, outdoor spaces, producing props like signage, fake bus tickets, driver's licenses, etc... The list goes on and on.
The cast (led by Rossif Sutherland and Karine Vanasse) and crew were great, and it was nice to get the opportunity to be a part of it all.
I took a whole lot of pictures throughout, but i don't really want to show much until the movie's out.
I do have a bunch of random shots I took on set with my phone that don't really give anything away though, and here are a just few of them...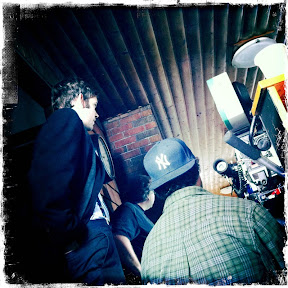 - Posted using BlogPress from my iPhone